'Twas the night before winter break, when all through the U of T halls
Not a student was present, all were busy on holiday Zoom calls
The hostesses were dressed in their most fabulous festive gear
Excited to wrap up R packages with holiday cheer!
In the spirit of giving and generosity, students and faculty in the Department of Statistical Sciences were invited to wrap up R for the holidays this year. Whether it was a particular holiday that you were celebrating or simply your love of snow, this holiday event was a terrific opportunity for students and faculty to gather together virtually and do something fun, relaxing, and valuable.
With a dash of fiercely festive fashion, our fabulous holiday hostesses brought their shining positivity and enthusiastic energy with them, making the event all the more inviting. An added bonus? They created the perfect excuse to throw on a jolly outfit and sing some holiday tunes whether your mic was muted or not!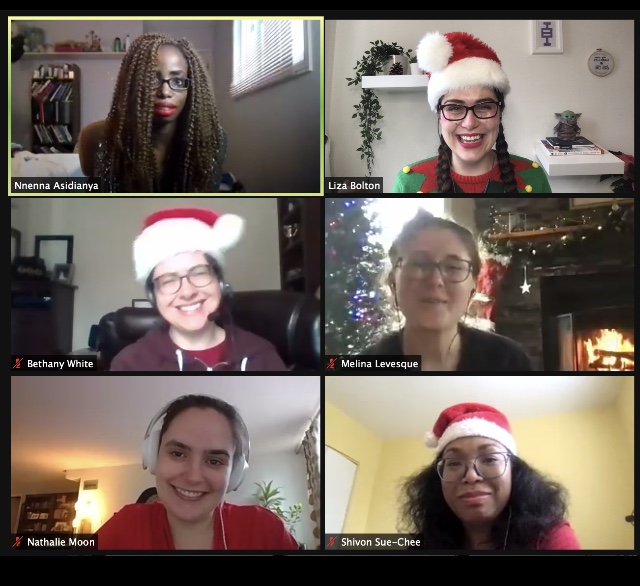 To kick things off, participants were welcomed with the soothing voices of the King and Queen of the holidays: Michael Bublé and Mariah Carey. As introductions began, the Zoom screen had a beautiful mixture of costumes and backdrops ranging from stylish glitter dresses, Santa hats, to a magically realistic fireplace and Christmas tree backdrops. No matter where each of us were zooming from in the world, you could feel the warmth of holiday coziness through the screen.
In our individual breakout rooms, participants got the chance to share their plans for the winter break. From wanting to dive into a new book to catching up on Harry Potter movies or simply looking forward to snuggling up on the couch with your cats, it's safe to say that each and everyone of us shared a common collective goal: relaxing.
As we regrouped, it became time to loosen our wrists, get set, and go right into a speed quiz: December holiday edition with a dash of R.
Did you know that in Caracas, Venezuela, people use roller skates to get to Christmas mass on Christmas day? Or that KFC is considered traditional for Christmas dinner in Japan? Or, that Hanukkah is the earliest holiday that occured in December 2020? The quiz even gave us a chance to spruce up our knowledge on the history of ugly Christmas sweaters. Now that's a conversation topic you can bring to the table!
After catching up on our December holiday facts, Nnenna lept forth into an engaging session on the use of R studio with a holiday twist. R is an open source programming language that people use to create and share amazing sets of functions. The reason why people love it? Because of the giving nature of open source software. While successfully submitting your package to the Comprehensive R Archive Network (CRAN) is the gold standard for sharing a package, a lot of people also share convenient functions, data, works in progress, and just 'fun stuff' in general through packages hosted on GitHub.
Right on brand with the theme of generosity, what better way to spread the holiday spirit than by wrapping up an R package and sharing it with others for free?
With Nnenna's guidance, we were introduced to a plethora of different thematic R packages that ranged from bright blue Hannukah themed colors to Christmas and Kwanzaa packages in red and green. While many students may have familiarized themselves with using the statistical programming language of R in the context of their courses in the department, the practicality of it doesn't stop there. Nnenna and Liza's enthusiasm showed us how R can be used to do something fun, frivolous, and creative beyond the classroom!
Amongst the 4,000 students in the department, this holiday event was a way of fostering a sense of community and belonging. Just as the event was a terrific opportunity for students to enrich their practical understanding, it also invited students to come and play in the sandbox of creativity and value that statistics has to offer.  In other words, it was a beautiful occasion for students to appreciate why educators such as Liza and Nnenna truly love what they do.