When and Where
Tuesday, September 19, 2023

11:00 am

to

3:00 pm
Exam Centre (255 McCaul St)
225 McCaul StToronto, ON M5T 1W6
Description
University of Toronto Career Fair 2023 (Employer List and Floor Maps below!)
Looking for meaningful work opportunities? Interested in connecting with key employers across a diversity of industries? Attend the University of Toronto Career Fair to grow your knowledge and skills!
Format: Drop-in networking with employers (* accommodations available)
*Should you require any accommodations or further support in accessing the content on this page, in the student guide or the fair more broadly, please direct your e-mail to Mary Stefanidis, Assistant Director, Employer Recruitment & Engagement at events@careers.utoronto.ca.
Date: Tuesday, September 19, 2023
Time: 11:00 AM - 3:00 PM (** early access from 10:30 AM to 11:00 AM) 
Location: U of T St. George Exam Centre, 255 McCaul Street, Toronto, ON
** Early access is for Indigenous students, Black students, racialized students, students who identify as 2SLGBTQ+, students with disabilities, international students, and those whose participation would be hindered by noise, crowdedness, etc. This is in recognition of the systemic barriers that disproportionately impact students amongst these communities during their job search processes and to prioritize their access to employers. 
Career Exploration & Education supports students and recent graduates as they build their future in our changing world. Now more than ever, the University of Toronto Career Fair is an incredible opportunity for students to engage with employers and explore future employment opportunities. Whether it be students who know exactly what they want to do upon graduation, or students who have no idea, the fair is an explorative event for students to ask questions and learn more about what opportunities and organizations are out there which align with their career goals. 
Join us to…
Connect with representatives from organizations who are recruiting for full time, community, and internship opportunities
Gain important information related to recruitment processes to maximize your applications
Practice your pitch and improve your networking skills with Career Educators
Students from all years, all fields of study and campuses are invited, as well as recent graduates.
Day of drop-in registrations welcomed!
With huge thanks to our SPONSORS!
 
Platinum Sponsors


Elevator Pitch Booth Sponsor                       Professional Headshot Sponsor



Employer List
ADP Canada
Alstom
Appficiency
Avient Corporation
Aviya Aerospace Systems
Bayshore Health Care
BBA Inc.
Bell Canada
Bantrel Co.
BrainStation
Canadian National Railway
Capital One
Cerebras Systems
Chess World Inc.
Citco 
CMiC (Computer Methods International Corporation)
Cognizant
Communications Security Establishment (Government)
Corrosion Service
CPCS
Curinos
Dehavilland Aircraft of Canada
Dilico Anishinabek Family Care
Dnaagdawenmag Binnoojiiyag Child & Family Services
EBC Inc.
Edison Engineers
EF Education First
Empire Life
Environment & Climate Change Canada
Evertz Microsystems 
EY (Ernst & Young)
FGF Brands
First Nations Education Council
Fitzrovia
Geotab
Grandview Kids
Huawei Technologies Canada 
Intel Corporation
ISN Canada
Isaac Operations
Kayla's Children Centre
Keyence Canada
Kinaxis
Klick Health
Konrad
Marcus Evans
Michael Garron Hospital
Minth Group
Morningstar
Multiplex
Munich Re
NMG Consulting
Nokia
Oak Valley Health
Official Languages Programs (Odyssey Program)
Oshawa Clinic Group
Our Place Peel
Pine River Institute
Powerex 
Public Services and Procurement Canada
RMA (Reinsurance Management Associates) Inc.
ROM (Biodiversity Gallery)
S&C Electric Canada
Salas O'Brien Engineering
Sapling Financial Consultants
Scarborough Health Network
Sinai Health
SOTI
Stantec
State Street
Surrey Place
Tata Consultancy Services (TCS)
theScore
Trillium Health Partners
Ungava Tulattavik Health Center
Unity Health Toronto
Integrated Talent Management & UTemp, Division of People Strategy, Equity & Culture, University of Toronto
Vale
Vena Solutions
Wayfair Canada
Employer Fair Map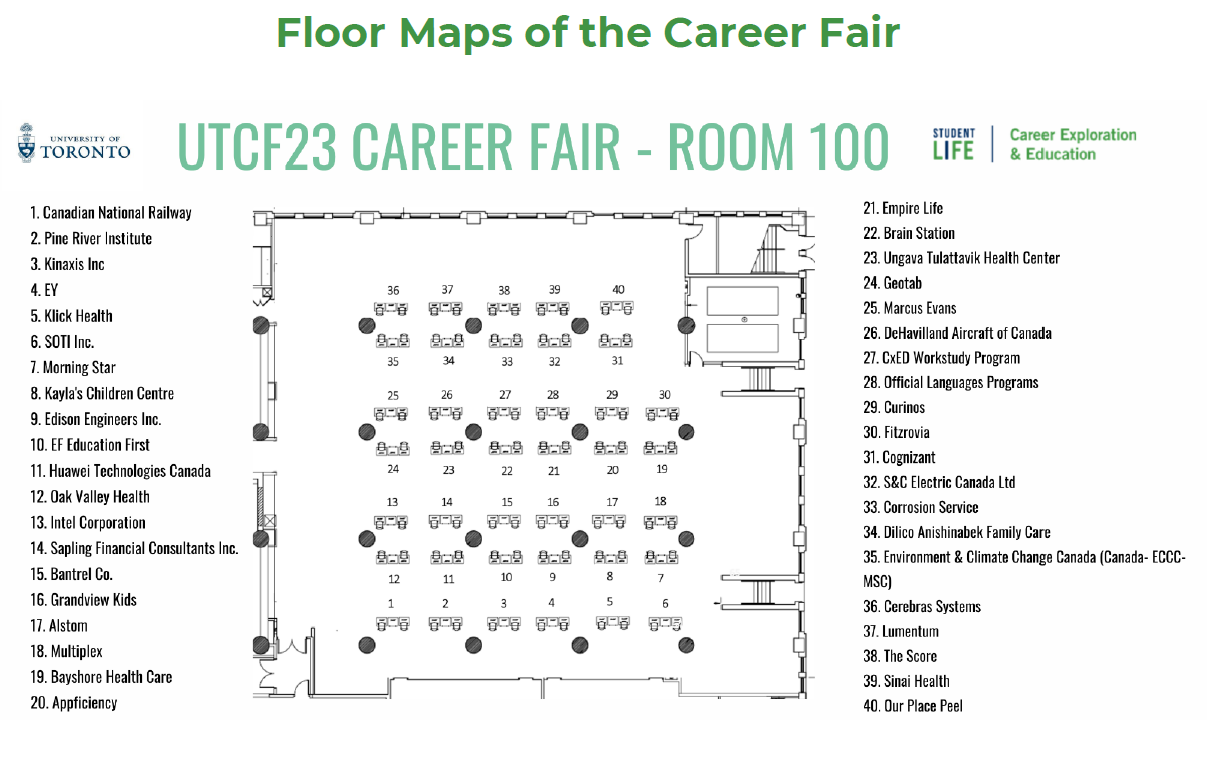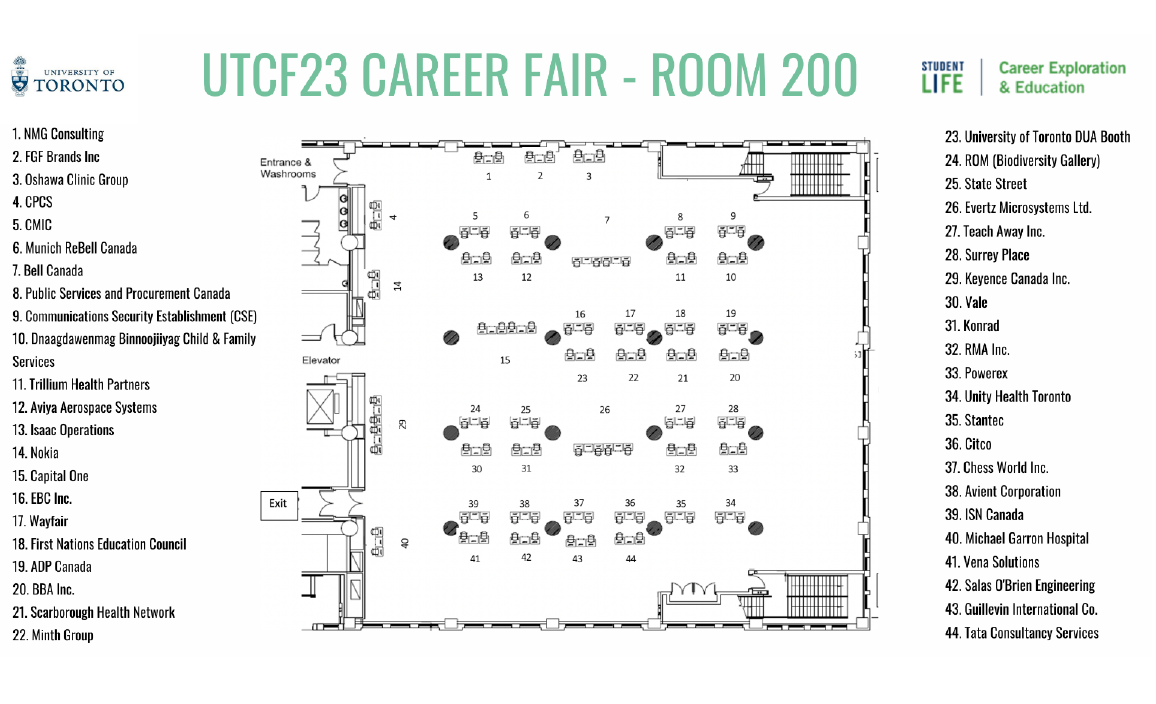 New to networking? Want to practice your skills and increase your confidence in connecting with employers? Check below for workshops and to connect with a Career Educator to help you prepare for the Career Fair!
 
Map
225 McCaul StToronto, ON M5T 1W6
Categories